Patricia's Pots
FREE VALENTINE'S DAY FLOWER POT CRAFT IDEAS FOR SOMEONE SWEET

Here are a few Valentine's Day painting ideas for you to try.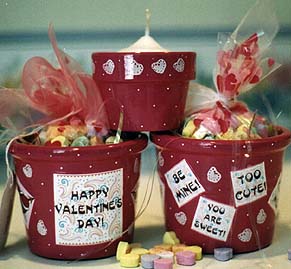 Paint your pots hot pink and decoupage conversation heart sayings all around. You can make this, or any graphic you like on your computer. If you have an ink jet printer, after you print your images, color copy them. Otherwise the ink will run when you decoupage them onto the pot. You can also use wrapping paper, tissue paper, napkins, just about anything made of paper. Finish the look by stamping white hearts all around.
---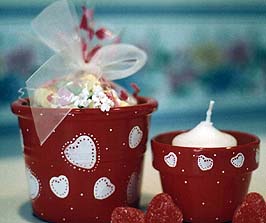 Paint your pots bright red, for a traditional Valentine look. Then add painted white hearts. Make the little dots with a toothpick or pencil lead dipped in paint.
---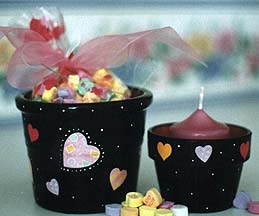 Be brave and paint your pots black! Then you can decoupage multi colored hearts all over in a free form pattern. Add white dots using a toothpick for a finished look.
---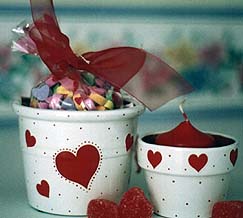 Base coat your pots in white and decoupage red hearts onto the rim and body. To get perfect hearts, place stickers on a sheet of paper and then color copy them. Cut them out, decoupage them on, and outline them with small dots for a lacey heart look!
---
Add a bag of conversation heart candies, chocolates or a candle to make your pot festive.
---
For information on sealing and painting your pots, please refer to the instructions on my
"How To Paint a Flower Pot" page.

Whatever you do, have fun creating. And remember, it doesn't have to be perfect to be special!
---

. . . . . . . . . . . BACK to the "HOW TO" PAGE

. . . . . . . . . . . BACK to the HOME PAGE
---
Copyright © - Patricia Petrat - Patricia's Pots - All rights reserved.